The Roche Internship in Medicinal Chemistry (RiCH) Programme invites chemistry students to become an integral part of one of our Medicinal Chemistry laboratories in Basel, Switzerland for six months/one year. Medicinal Chemistry is at the heart of the drug discovery process and the successful applicant will synthesise novel molecules for innovative biological targets at one of the world's leading pharmaceutical companies.
Key facts:
Who:

Passionate & motivated chemistry student who in the 2020-2021 academic year will be in the penultimate or last year of study, at the "Year in Industry" junction of their studies or in a gap year before starting a PhD

What:

Be part of a research laboratory and research team involved in lead generation and/or lead optimisation projects synthesising novel molecules for innovative biological targets

Duration:

6-12 months

Location:

Roche Innovation Center Basel, Switzerland

Career benefits:

Gain experience in the use of modern organic chemistry synthetic methods and purification technologies through hands-on experience and a dedicated tutorial programme; receive complementary education with an especially tailored tuition program through which you will deepen your understanding in organic and medicinal chemistry and improve your presentation skills

Financial support:

Monthly internship salary, travel expenses, accommodation in a shared house and reimbursed costs for Swiss work permit application

Academic support:

Candidates must provide one academically relevant letter ofsupport upon application



How to apply?
All positions will be posted on the Roche Careers website until October 7th (12pm). You can apply here.
Learn more about Roche Pharma Research and Early Development (pRED) here.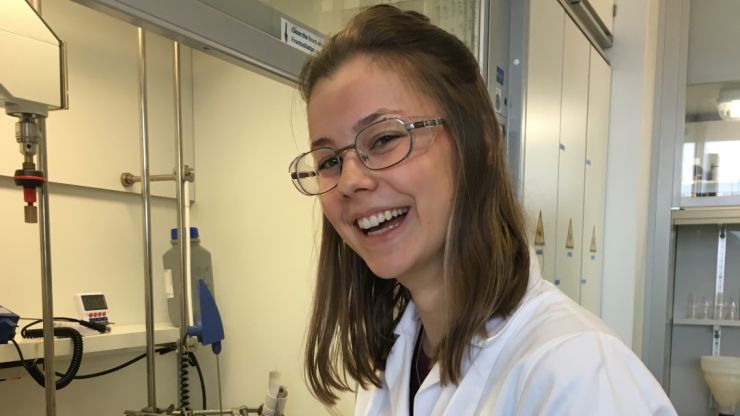 It's hard to believe I have been at Roche for over 100 days. From the first nervous tour of my lab at the beginning of September to now, my confidence as a medicinal chemist and as a person has grown monumentally. I have developed my practical skills in and outside the lab, and the RiCH tuition has improved both my presenting and problem-solving skills. Being part of this programme is such a privilege. I learn so many new things every day, not just from my supervisor, who has played a massive role in my amazing experience so far, but from the whole MedChem community. What I have particularly enjoyed is the multidisciplinary project team and gaining an understanding of not only the chemistry, but also the biology and especially the molecular modelling for structure-based discovery and how all these elements combine to move a project forward. I am so excited for what the next eight months have in store.
Since joining Roche, I have been fully immersed in a culture where everyone is passionate about delivering ground-breaking results. Surrounded by enthusiastic individuals, we are always encouraged to push ourselves further along the steep learning-curve that promotes confidence and proficiency when working in a lab. The extensively equipped labs offer the chance for young chemists to be engrossed in the fast-paced nature of the pharmaceutical industry and, for me, have heightened the desire to continue a career path within this field.
Aside from chemistry, the RiCH tuition programme takes a deep interest in personal development, particularly focusing on communication skills through presentations, which stands us in good stead for the future, regardless of our career path. The other interns, colleagues and the company as a whole are always doing their bit to make this internship exciting and enjoyable.
Samuel Foster, University of York, UK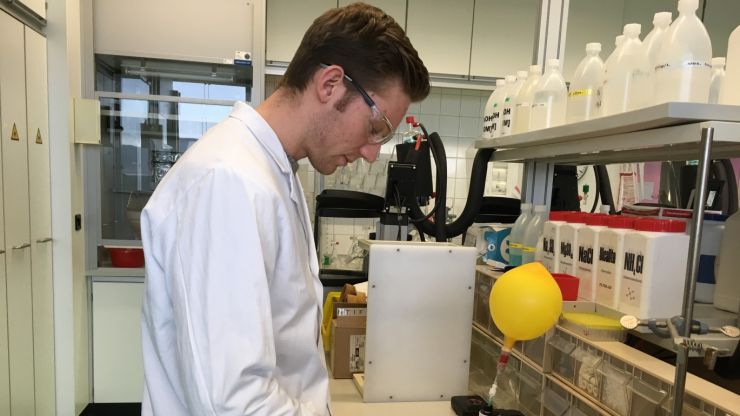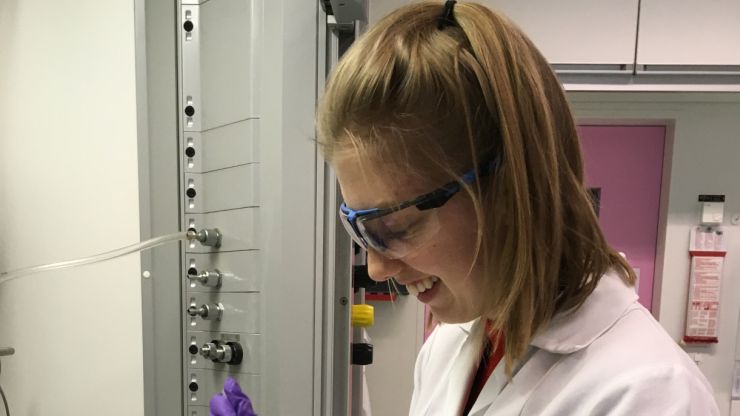 It seems so long ago, yet at the same time like it was yesterday that I first walked into Building 1 along with 14 other people I had met only hours before. Since then I have made lifelong friends and grown in confidence both as a person and in my ability as a chemist. I have learnt so much from working in a lab on a daily basis, attending group project meetings and the valuable tuition sessions where I have been able to improve my presentation skills. I am really looking forward to the next 100 days!Ellie Stammers, University of York, UK
My first hundred days at Roche have gone by way too quickly in this fast-paced and dynamic setting. I was amazed by the inclusive environment at Roche and the extent of encouragement from my group to implement my own ideas, suggestions and initiatives. Everyone is very polite and friendly and people always seem to carry a warm-hearted Grüezi for you in their pockets. It has been a great opportunity for me to take advantage of the interdepartmental collaboration, witness in vivo tests and learn first-hand from experts in analytics and bio-catalysis teams at Roche. The weekly student seminars have allowed me to hone my communication skills while simultaneously challenging and improving my knowledge of synthetic organic chemistry. But the internship is more than just chemistry. I have spent my weekends searching for the best Glühwein (mulled wine) in Germany, snowboarding off-piste in the Alps and trying new foods, sports and dances, all while meeting incredible new people. In my opinion, the RiCH internship offers endless possibilities and great potential for personal growth and I can't wait for what the coming months will bring.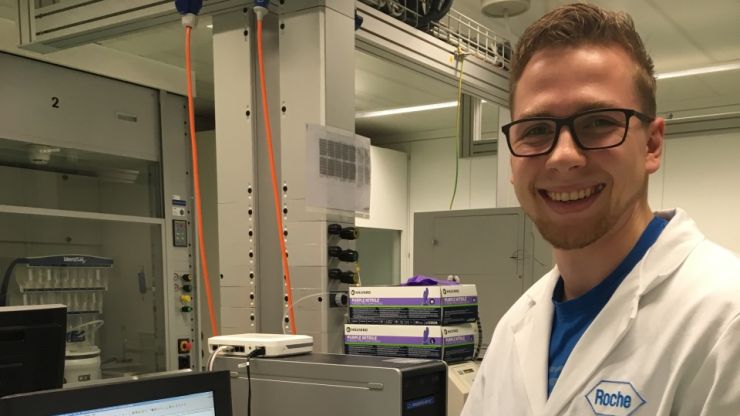 In my first 100 days I gained an insight into Roche's approach to face the world's most crucial challenges in creating new treatments for patients in need. As a student, I am a part of the small molecule research community and I work hand in hand with scientists in my project. Potential drugs in the form of novel molecules are designed, synthesised and evaluated on the daily basis. Research is carried out at a fast pace and new knowledge is created very rapidly. The programme gives me the opportunity to extend my theoretical and practical strengths in organic chemistry and hone my presentation skills by giving talks almost every week. I see the knowhow I have gained in the last 100 days as exceptional preparation for a future PhD programme. The internship in medicinal chemistry at Roche is more than just an industrial placement. It's an opportunity to work with remarkable people and grow and learn every day.
Looking back on my first one hundred days at Roche, I can safely say that I am delighted with the whole experience. Ever since I started, there has been an exceptionally steep learning curve. However, this is not forced on you; you set your own pace and how much you want to learn. There is always plenty to do and learn for those who are willing and seek out knowledge!
In my experience, people have adapted how they approach me as I have developed. At the start, everyone taught me as much as they could and were extremely supportive, but as I became more confident, independent and had ideas of my own, their stance towards me has been no different to any other employee.
The people in the medicinal chemistry department are truly outstanding synthetic and medicinal chemists and many come from elite research groups in academia. So the fact that lab heads (or anyone you can get a hold of, for that matter) are always happy and willing to share their knowledge on biology, biological data and (most importantly) chemistry is an amazing opportunity!
As an undergraduate, this is the year I feel like I'm really starting to become a chemist. The vast amount of practical work has helped me become confident in my abilities in the lab. The tuition programme complements this perfectly with a theoretical approach and building soft skills such as presenting.
From getting to know the other people on the RiCH program, it is evident that the recruitment process is heavily focused on character as well as knowledge – and rightly so. As a result, the atmosphere with the other interns is awesome! All in all, we are a diverse but compatible set of people and we have a great time together.
Michael Bogdos, University of Strathclyde, Glasgow, Scotland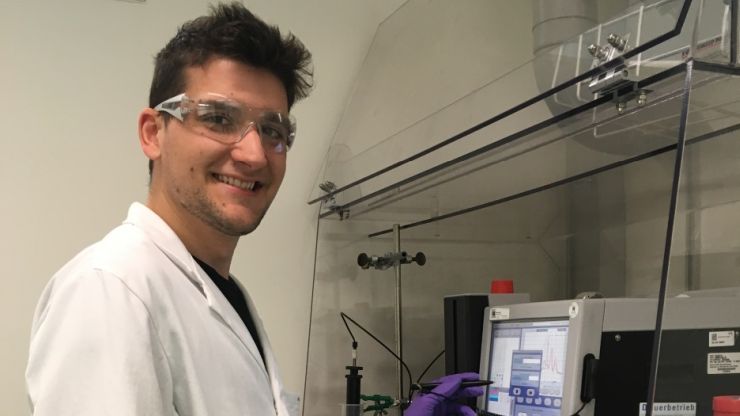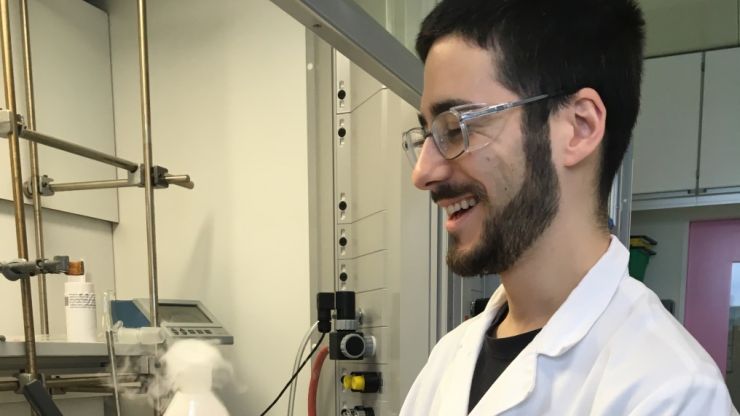 After my first hundred days at Roche, I feel that this outstanding experience added a lot of value to my chemistry education. First of all, with the help of my supervisor my ability to work proficiently and independently in the lab has improved a lot since the beginning.
The part I found most interesting – along with the teamwork and cooperation between people – is the chance to tackle a wide spectrum of different chemical reactions: from well-established chemistry to the recent breakthrough in synthesis, everyday life in Roche's pRED laboratories is never boring; it's challenging but fulfilling, too.
So far I have really enjoyed the opportunity that Roche gave me and I am sure the rest of the internship will be even more rewarding for me, both as a chemist and from a personal perspective.
My first 100 days at Roche have been exciting, challenging yet extremely valuable. To have the opportunity to work in a leading, global company with such a friendly environment and welcoming culture is incredible. The RiCH programme has boosted my confidence as a chemist, honed my practical skills through working in the lab and improved my chemical knowledge through the tuition. I have found working on an exciting project in a talented and supportive lab team very rewarding. As well as synthesising and developing novel compounds, you get to learn and understand the biological and the medicinal applications of your compounds. Overall, my first 100 days have been very enjoyable and I would recommend anyone take up this fantastic opportunity.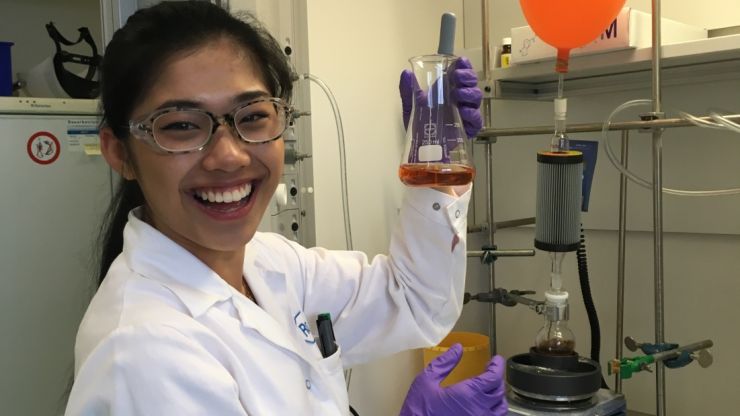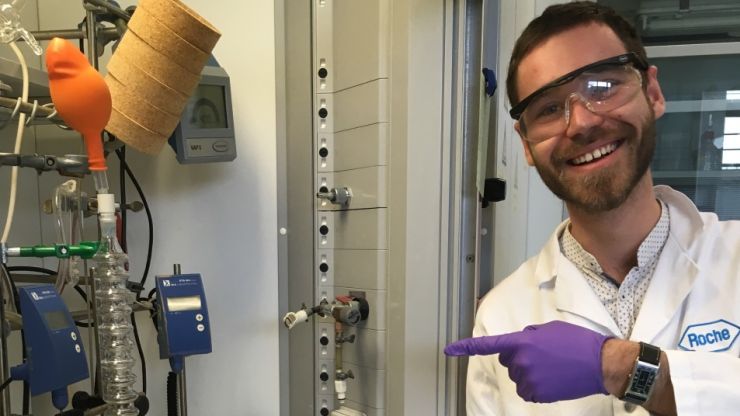 Accepting this industrial placement was one of the smartest choices I've made. From the very beginning, the other students and I received a thoughtful, fantastic welcome. Every day I wake up motivated to progress and learn more. I feel fulfilled in this multicultural, cross-functional environment, where I can evolve and improve all the time. Working at Roche allows me to constantly improve my skills. I analyse biological data and design new compounds in order to explore the structure-activity relationship. In addition, I find the quickest synthesis route, then carry out the synthesis, purification and analytics to confirm the structure and purity of the bio-active molecules. I regularly present my project and explain organic chemistry during meetings or with the RiCH special tuition programme in front of both experienced chemists and my peers.
I am looking forward to the next few months of this marvellous journey. I can only recommend this internship: not only is it a tremendous work experience, you will also meet many wonderful people and find a new family amongst the other students.
My first 100 days here at Roche have been truly exhilarating.
It is such a rewarding experience to be working alongside such experienced scientists who are supportive in my learning and development and ever-willing to share their expertise. Thanks to the collaborative work environment, my confidence and proficiency in the labs have massively improved.
Presentation of ideas and clarity of sharing information had never been my strong point, but the RiCH tutoring program has provided a well-rounded development, as we are regularly given the opportunity to stand up and present our work in front of fellow students. Also hearing about other people's experiences in their projects inspires me to try out new things.
My time here is proving to be invaluable in shaping my future career path as a chemist. Moreover, Basel is also a great city to be living in and there are so many opportunities to live life to the full and embrace new cultures as an international student in Switzerland. I am so grateful to be in this position.